COUP DE GRACE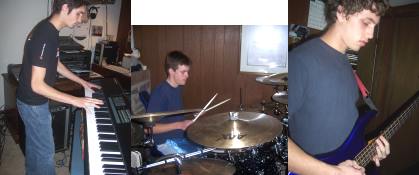 This amazing band's guitar player, Matt Runkle, is one of my former students. I worked with Matt for over 4 years. He has gone on to incredible heights with his style and technique. He also is kind of responsible for my comeback to song-writing. We wrote a lot of leads together for his days in the Palisades Jazz Band.

Coup de Grace was just back in the studio and has created 3 new songs. It gave us a chance to try out the new Digi002 gear. You'll find here a pretty good representation of the power these guys can generate.

For info E-mail the studio. Included are "Freestyle", "Meltdown" and a song Jim named "Kwauan yet". "Baseless" is remixed, now with vocals. Also listen to "A to E" and "Oblivian".

Matt Runkle said:
"We were amazed at some of the sophisticated editing and placement of special effects Jim was able to execute. We are really looking forward to returning to JIMMERO studio."